In my last post we talke about some of the causes of calf and achilles issues so how would we look to treat these issues. As most people realise that the best cure is not to get injured in the first place by making sure you stretch and wear the right kind of footwear. Unfortunately you can't prevent injury it is a risk  and could happen at any time and to anybody – sports, gardening and even just walking down the road.
So, Can you do anything to help yourself? Yes!
Most calf niggles don't need treatment and can be looked after by yourself. Stretching is an often overlooked way of helping – gentle stretching making sure that the stretch isn't painful, it might be uncomfortable but shouldn't be painful (If you're unsure about the difference – give the clinic a shout). See the video at the bottom of this paragraph for a good example of a calf stretch. What is also important is to ensure that you've also got a good level of strength in the calf. The best way to do this is to strengthen your calf is the very basic but effective calf raise. Again at the end of this paragraph I have included a video to show. Just remember that for any strengthening exercise it is important to stretch afterwards even if the exercise has an element of stretching in it – a stretched strong muscle is a more effective muscle.
The above will help with any calf or achilles niggles.
If you bend the back leg as you're stretching you will target the 2nd main calf muscle the soleus.
If it doesn't settle down, what can you expect from a treatment?
With a lot of calf and achilles issues I would generally look to performa lot of soft tissue work to release and tension which may include some soft tissue work on the achilles itself. The purpose of this would be to relieve symptomsto allow you to do the strengthening exercises. It is possible that this will be sufficient and can be resolved within one or two treatments.
If the calf/achilles issue is more chronic then it may take a number of treatments to relieve the tension and through the symptomatic relief from the treatment combines with strengthening exercises it is likely to recover in a reasonably short period of time.
If you are unlucky enough to have straine your calf or achilles then we would work with you throughout your recovery starting by helping with reduction of swelling (Maybe just advise) and pain relief (along with the pharmacist) then moving onto gentle work and starting as soon as possible with light strengthening. We would work with you throughout your recovery and to the point of return to a point of activity.
We may use kinesiology tape to support and offload the calf and the tendon.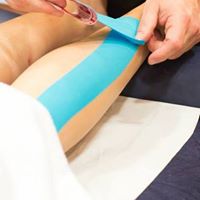 This can help with pain relieft and provide support to allow you to move without hobbling. During recovery it is actually very important to ensure that you don't hobble as that can cause compensation in hips, back, knees etc… So any help is good!
Although I do use kinesiology tape and the subjective evidence is good the research evidence about the effectiveness is limited and mixed. If it is a placebo I wouldn't knock it as the power of the brain is yet to be fully understood and I think is extremely powerful.
The worst trauma you can get is an achilles rupture and this is likely to require surgical intervention. In this case specialist physiotherapy is likely to be required especially in the early days to help in recovery. However soft tissue work can complement the work of the physiotherapist and I have seen subjective evidence of this especially when the 2 therapists are working in parallel. Once discharged from the physiotherapist then we can work with you to get you back to the pastimes you love to do.
Obviously if you have any questions then please let us know. Email the clinic, give us a call or find us on facebook or instagram.