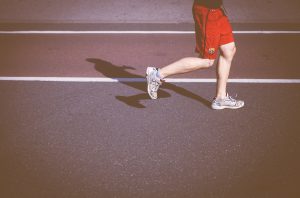 West Berkshire Injury Clinic is now able to offer a gait analysis service.
We will be looking to video your gait on a treadmill to review your running/walking gait and to look for imbalances, not just in the lower leg but through the knees, hips, and even into the shoulders.
The process that we follow for the appointment: –
We will meet at a local gym – you'll be advised of the location and address when you book your appointment.
We will use the treadmill – starting with a walk and slowly building to a run – videoing your gait in the process.
Once completed, you can shower and we can meet at the treatment room.
Back at the treatment room we will review and analyse your gait and come up with an action plan if needed.
Please allow 90 minutes for the appointment to allow time for the videoing, analysis and discussion.
Now, we know that running on a treadmill is an artificial process and may not give a true indication of your running style so, weather permitting, we may also meet locally to review and video your gait, however the process will be like the above.
What should I wear?
I will be asking you to wear exactly what you would wear when you go for a run – apart from the muddy shoes! If you wear a camelpak for water then I will ask you to wear that, if you run holding your phone, I will ask you to bring your phone with you, if you carry a water bottle or have sweets in your pockets then do the same.
As explained above, it's to look for imbalances and to review your running style. The idea is to come up with a plan of action, to help you recover from a running related injury, to reduce the risk of an injury or help you run better.
Please note that I'm not a running coach and I'm looking at things from a therapeutic perspective.
The cost of a gait analysis session is £65.
If you would like more information, then please get in contact with the clinic.
---
Gait Analysis
Our bodies become creatures of habit over time. This is why it is often very difficult to diagnose a problem with the way that we walk without obtaining a professional opinion. The professionals at West Berkshire Injury Clinic have adopted a host of cutting-edge techniques in order to ensure that any issues with your current gait are uncovered and effectively treated. The good news is that even those who have been suffering from pain and discomfort for extended periods of time will normally be provided with targeted solutions in no more than 90 minutes.
The Advantages of a Gait Analysis
Even small imbalances within the lower extremities can lead to problems with the knees, hips, lower back, and shoulders. Furthermore, the best way to prevent future injuries is to effectively diagnose any dysfunctions within a real-time observational scenario. Whether you suspect that an issue may be present or you are simply looking to err on the side of caution, a gait analysis can work wonders.
This is only one of the main services provided by the team at West Berkshire Injury Clinic. Please contact us to book an appointment so that we can fully analyse your gait and any problems that may exist.